Chess players at the
Kerepesi Cemetery, Budapest
  (Added 20 Jun 2003, updated 7 Aug 2005)
Communism went down in Hungary and most facilities for professional chess players went down with it. No more state support and no special social status anymore. But still there are world class players in Hungary, like Judith Polgar and Peter Leko. And everybody in the chess world knows people like Portisch and Sax are still players to reckon with.
In a land where chess is so big it's no wonder that a small corner of the beautiful Kerepesi cemetery in Budapest is reserved for some chess masters of the past.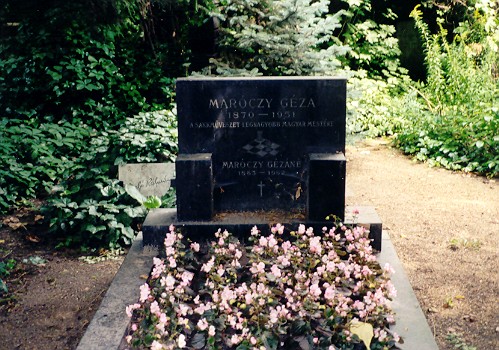 Around 1900, Géza Maróczy (Szeged, 3 Mar 1870 - Budapest, 20 May 1951) was the best tournament player after the great Lasker. In 1906 he signed a contract for a match against Lasker, but because of the revolution at Cuba the match was cancelled and he withdrew from further negotiations. Maróczy retired and became a maths teacher. He was an advisor of Max Euwe during his matches against Alekhine in 1935 and 1937.
| | |
| --- | --- |
| | Gedeon Barcza (Kisujszállás, 21 Aug 1911 - 27 Feb 1986) became an international master in 1950 and a grandmaster in 1954. He was Hungarian champion in the years 1942, 1943, 1947, 1950, 1951, 1955, 1957 and 1958. |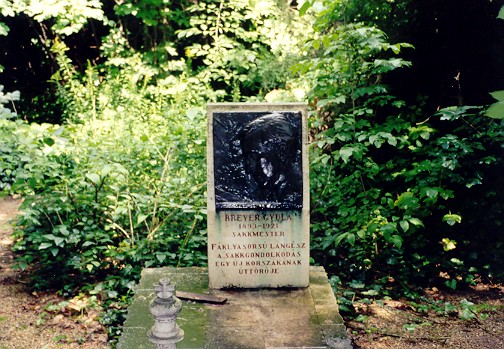 Gyula Breyer (Budapest, 30 Apr 1893 - Bratislava, 9 Nov 1921) already played in a tournament in Kiev when he was only 10 years old, but his score was 0 out of 18. When he was seventeen however, he played with black against Lasker in Budapest and he won in 21 moves. In 1912 he became Hungarian Champion and in 1921 he played blind games at 25 boards at the same time, a new world record. In the same year he died of a heart attack. The Breyer Gambit is named after him.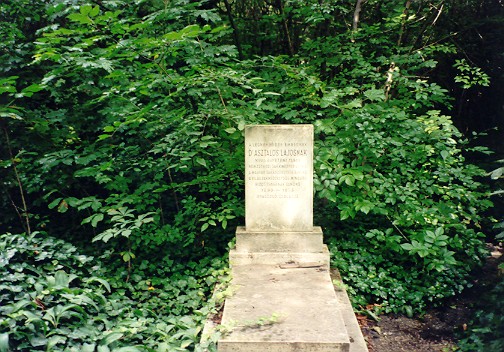 Lajos Asztalos (Pécs, 29 Jul 1889 - Budapest, 1 Nov 1956) became Hungarian champion in 1913. Because he was a language teacher by profession he was often unable to participate in tournaments, but he played against strong masters like Tarrasch, Reti, Spielmann and Breyer. Between the two World Wars he lived in Yugoslavia. In 1942 he returned to Hungary. He participated in many more tournaments and became a chess teacher. In 1950 he was awarded the IM title.
Return to The Page of The Dead
---

Beware of the brown bear!
Copyright by Androom, 2005