Cimetière de Loyasse
43, rue du Cardinal-Gerlier
Lyon
France

Show cemetery on map in new window




Opened for burials: 1807

The Loyasse cemetery is the oldest active cemetery in Lyon. It was laid out on the Fourvière hill. The first famous person that was buried there was the inventor Philibert Ham and his tomb is now the oldest on the cemetery.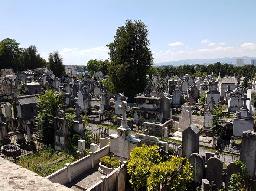 The Cimetière de Loyasse in Lyon.