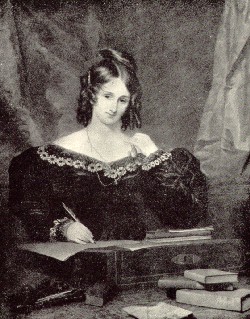 Mary Shelley, from the painting by
S.J. Stump.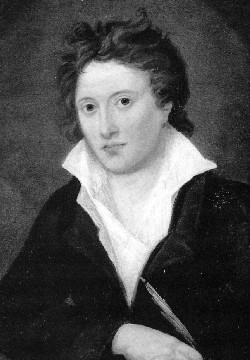 Percy Bysshe Shelley, from the
painting by Amelia Curran, who
was a friend of the Shelleys.
My choice! My choice - alas was had & gone
With the red gleam of the last summer's sun-
Lost in the deep in which he bathed his head,
My choice, my life, my hope together fled:-
A wanderer - here, no more I seek a home
The sky a vault - & Italy a tomb!
Yet as some days a pilgrim I remain
Linked to my orphan child by duty's chain;
And since I have a faith that I must earn
By suffering & by patience, a return
Of that companionship & love, which first
upon my young life's cloud, like sunlight burst,
And now has left me dark as when it beams
Quenched by the might of dreadful ocean stream,
Leave that one cloud, a gloomy speck on high,
Beside one star in the else darkened sky;-
Since I must live, how would I pass the day,
How meet with fewest tear's the morning's ray
How sleep with calmest dreams, how find delights,
As fireflies gleam through interlunar nights?

First let me call on thee, lost as thou art
Thy name aye fills my sense, the love my heart-
Oh! Gentle spirit, thou hast often sung
How fall'n on evil days thy heart was wrung;
Now fierce remorse and unreplying death
Wakend a chord within my heart, whose breath,
Thrilling and keen, in accents audible,
A tale of unrequited love doth tell.
It was not anger - while thy earthly dress
Encompassed still thy soul's rare loveliness,
All anger was attoned by many a kind
Caress or tear that spoke the softened mind:-
It speaks of cold neglect, averted eyes
That blindly crushed thy heart's fond sacrifice:-
Mine heart was all thy own - but yet a shell
Closed in it's core, which seemed impenetrable,
Till sharp-toothed misery tore the husk in twain
Which gaping lies nor may unite again-
Forgive me! let thy love descend in dew
Of soft repetance and regret most true;-

In a strange guise dost thou descend - or how
Could love soothe fell remorse? - as it does now! -
By this remorse and love - and by the years
Through which we shared our common hopes & fears,
By all our best companionship, I dare
Call on thy sacred name without a fear
And thus I pray to thee, my Friend, my Heart,
That in thy new abode thou'lt bear a part
In soothing the poor Mary's lonely pain,
As link by link she wears her heavy chain!
And thou, strange Star! ascendent at my birth
Which rained, they said, kind influence on earth,
So from great parents sprung I dared to boast
Fortune my friend, till set, thy beams were lost!
And thou - Inscrutable! by whose decree
Has burst this hideous storm of misery!
here let me cling, here to these solitudes,
These myrtle shaded streams and chestnut woods;
Tear me not hence - here let me live & die,
In my adopted land, my country, Italy!

A happy Mother first I saw its sun-
Beneath er sky my race of joy was run-
First my sweet girl - whose face resembled His,
Slept on bleak Lido, near Venetian seas.-
Yet still my eldest born, my loveliest, dearest-
Clung to my side - most joyful when nearest -
An English home had given this angel birth-
Near those royal towers - where the grass-clad earth
Is shadowed o'er my England's loftiest trees:-
Then our companion o'er the swift-passed seas
Had dwelt beside the Alps - or gently slept,
Rocked by the waves, o'ver which our vessel swept,
Beside his father - nurst upon my breast,
While Leman's waters shook with fierce unrest
His fairest limbs had bathed in Serchio's stream;
His eyes had watched Italian lightnings gleam;
His childish voice had with it's loudest call,
The echoes waked of Este's Castle wall;
Had paced Pompeii's roman market Place
Had gazed with infant wonder on the grace

Of stone wrought deities and pictured saints
In Rome's high palaces - there were no taints
Of ruin on his cheek - all shadowless
Grim death approached - the boy met his caress-
And while his glowing limbs with life's warmth shone,
Around those limbs his icy arms were thrown-
His spoils were strewed beneath the land of Rome
Whose flowers now star the dark earth near his tomb-
Its airs & plants received the mortal part,
His spirit beas within his Mother's heart!
Infant immortal! Chosen of the Sky!
No grief upon grief upon thy brows young purity
Entrenched sad lines, or blotted with its might
The sunshine of the smile's celestial light -
The image scattered - thy bright spirit fled,
Thou shin'st the evening star among the dead.
And thou his playmate - whose deep lucid eyes,
Were a reflection of these bluest skies;
Child of our hearts, divided in ill hour,
We could not watch the bud's expanding flower,
Now thou art gone, one lovely victim more
To the black death which rules this sunny shore.

Companion of my griefs! thy sinking frame
Has often drooped - & then erect again
With shews of health had mocked forbodings dark;
Watching the changes of theat quivering spark
I feared and hoped - and dared to trust at length
Thy very weakness was my tower of strenght-
Methought thou wert a spirit from the sky,
Which struggled within it's chains, yet could not die,
And that destruction had no power to win,
From out those limbs the soul that burnt within.
Tell me, ye ancient walls, and weed-grown towers,
Ye Roman aires, and brightly painted flowers,
Does not this spirit visit that recess
Which built by love, enshrined his earthly dress?
No more! No more! What tho' that form be fled
My trembling hands shall never write thee - dead -
Thou liv'st in Nature - love - my Memory,
With frathless faith for aye adoring thee-
The wife of time no more - I wed Eternity

'Tis thus the past on which my spirit leans,
Makes dearest to my soul Italian scenes.-
In Tuscan fields, the winds in odours steeped
From flowers and cypresses - when skies have wept,
Shall like the notes of music - once most dear,
Which brings the unstrung voice upon my ear
Of one beloved, to memory display
Past scenes - past joys - past hopes, in long array.
The Serchio's stream upon which whose banks he stood-
The pools reflecting Pisa's old pine wood,
The fire-flies beam - the aziolo's cry-
All breath his spirit, which shall never die.-
Such memories have linked these hills and caves,
These woodland paths, & streams - & knelling waves
Fast to each sad pulsation of my breast
And made their melancholy amrms the haven of my rest

Here will I live within a little dell,
Which but a month ago I saw full well;
A dream then pictured forth the solitude
Deep in the shelter of a lovely wood;
A voice then whispered a strange prophecy,
My dearest widowed friend, that thou and I
Should there together pass the livelong day,
As we have done before in Spezia's bay,
As through long hours we watched the sails that neared
O'er the far sea, their vessel ne'er appeared;
One pang of agony, one dying gleam
Of hope led us along, beside the ocean stream,
But keen-eyes fear, the while all hope departs,
Stabbed with a million sting our heart of hearts.
The sad revolving year has not allayed
The poison of these bleeding wounds, or made
The anguish less of that corroding thought
Which had with grief each single moment fraught,
Edward, thy voice was hushed - thy noble heart
With aspiration heaves no more - a part
Of heaven resumèd past thou art become,
The spirit waits with this in our far home.