Cimitero Monumentale
Corso Novara
Torino, Piemonte
Italy

Show cemetery on map in new window




Opened for burials: 1829
Size: 600,000 m2

The Cimitero Monumentale di Torino was constructued between 1827 and 1829 and opened on 5 November 1829. The architect was Gaetano Lombardi. It replaced the small and old cemetery of San Pietro in VIncoli. It was previously known as the Cimitero Generale.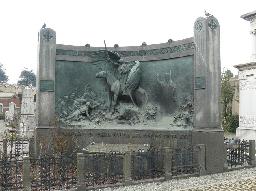 Monument at the Cimitero Monumentale, Turin.