Ehemaliger Nikolaifriedhof
Klagesmarkt
Hannover, Niedersachsen
Germany

Show cemetery on map in new window




The cemetery was created in the 13th century in front of the Steintor. At the time there was a hospital as well. It served as cemetery for the Marktkirche and the Kreuzkirche. From the 16th century onwards important personalities from Hanover were buried here. In 1866 the cemetery became a park.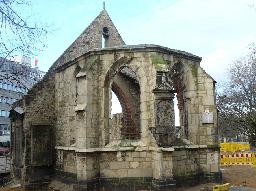 The chapel at the St. Nikolaifriedhof, Hannover.