Lansdown Cemetery (Walcot Cemetery)
Lansdown Road, Lansdown
Bath, Somerset
England

Show cemetery on map in new window




Opened for burials: 1848

Lansdown Cemetery is next toBeckford Tower on Lansdown, Bath. The first person buried there was William Beckford, whose remains were transferred from Bath Abbey Cemetery by his daughter Lady Hamilton after she had bought back the land.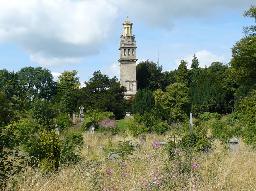 Walcot Cemetery and Beckford's Tower, Bath.